Now there's an easy and effective way to screen for osteoporosis. Bindex®.
Osteoporotic fractures account for more hospitalizations than breast cancer, diabetes and myocardial infarction combined.
1
Yet while the entire Medicare population of around 60 million is at risk of osteoporosis, only 2.5 million DXA scans are performed annually. Are you screening your Medicare patients?
Why Bindex® is a game-changer in osteoporosis diagnostics.
Bindex
®
is the world's first evidence-based, point-of-care osteoporosis diagnostics device that provides results comparable to DXA. Portable and lightweight, Bindex
®
scans in seconds and at a fraction of the cost allowing you to quickly provide much-needed osteoporosis diagnostics for your at-risk patients.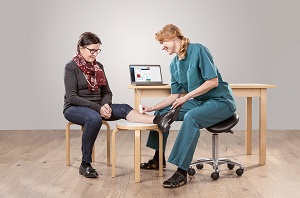 Comparable to DXA: Bindex® is 90% accurate in detecting osteoporosis.
Extensive clinical research has proven Bindex
®
to be 90% accurate in detecting osteoporosis which means it can replace nearly 70% of DXA scans for patients with suspected osteoporosis.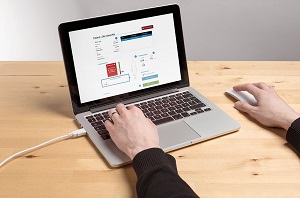 Fast and effective: A Bindex® scan takes just seconds.
Bindex
®
measures cortical bone thickness in seconds and instantly analyzes bone density, generating a detailed, easy-to-read report. Just plug the Bindex
®
device into your laptop and scan.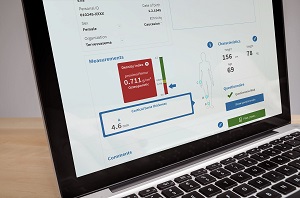 Easy to use anywhere: Bindex® is lightweight and pocket-sized.
Using safe pulse-echo ultrasound, handheld Bindex
®
allows you to offer bone density scans on the spot. Its portability makes it easy to use in a wide variety of settings — hospitals, clinics, patients' homes, osteoporosis screening events and more.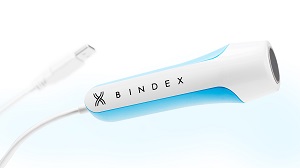 Tested, proven and relied on worldwide.
Designed and developed by Bone Index Ltd, a healthcare diagnostics company, Bindex
®
is FDA-cleared and has been validated in clinical trials with several thousand patients. This revolutionary device has already screened over 1.6 million people in the US, and has 19 global patents in the US, China, Japan and major EU countries.
Now you can be part of the Bindex launch and trial at no cost.
To trial Bindex in your office, visit Bindex.us/launch or call (970)-306-7452.
1
International Osteoporosis Foundation