One Complete Solution: MindrayTM BS-200 analyzer, reagents, service, and support
Significant savings for your laboratory working with one company for all your testing needs.
Offering the most extensive menu to the low volume laboratory market... 57 Assays.
Included in this suite is our Peer Group Review Program for your technicians: LABCHECK QC™ Peer Review
Minimal startup and maintenance procedures with "No Shutdown".
Reliability is 2nd to none with only one preventative maintenance needed per year.
Easy-to-use reagent management system with dual power switches allowing reagents to be stored on-board in a refrigerated compartment.
Confidence in probe management with collision protection and liquid-level sensing.
Accommodates reagents for CMP and ISE's plus space for 10 additional tests.
Packaged and 8arcoded chemistry reagents specifically manufactured for your BS-200 instrument.
The BS-200 system is capable of running both general chemistries and drugs of abuse.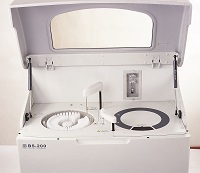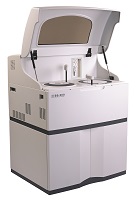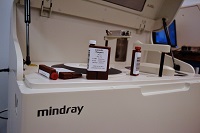 Click Images to View Larger
RELIABLE REAGENTS - RELIABLE RESULTS Since 1981
28 Packaged and Barcoded Reagents
Albumin
Alkaline Phosphatase
ALT
Amylase
AST
Bilirubin, Direct
Bilirubin, Total
BUN (Urea Nitrogen)
Calcium
Carbon Dioxide
Cholesterol
Creatine Kinase
CRP (hs)
Fructosamine
y-Glutamyl Transferase
Glucose Hexokinase
Hemoglobin Alc (2 Part)
autoHDL
Iron – Total
Lactate Dehydrogenase
autoLDL
Lipase
Magnesium
Phosphorus
Protein - Total
Creatinine
Triglycerides
Uric Acid
13 Highly Complex Open Channel Reagents
Alcohol
Ammonia
Creatinine Enzymatic
CK-MB
Glucose Oxidase
G6PD
HDL Cholesterol- PEG
HDL Cholesterol- Mg/Dex
Homocysteine
Lactate
Lipoprotein (a)
Microalbumin
Microprotein
16 Highly Complex Drugs of Abuse
6 - Acetylmorphine
Amphetamine
Barbiturate
Benzodiazepine
Buprenorphine (Suboxone)
Cannabinoid (THC)
Cocaine Metabolite
Ecstasy (MDMA)
Ethanol
Methadone
Methadone Metabolite (EDDP)
Methamphetamine
Opiates
Oxycodone
Phencyclidine
Propoxyphene