Nevis: A Secret Worth Sharing
Four Seasons NEVIS
It's like a secret that nobody knows.
You mention in passing that you've just been to paradise, and it's an island called Nevis in the West Indies. Chances are they've never heard of it. But when you come across someone who has been, their eyes light up, and there's an instant exchange of enlightenment as if to say, "I've been there, I know what you're feeling."
All over the world, there are beautiful places, but this corner of it is different. It's special. It is a feeling you have to experience. It's a special little secret that needs to be shared with others, not just whispered but shouted from its volcanic peak.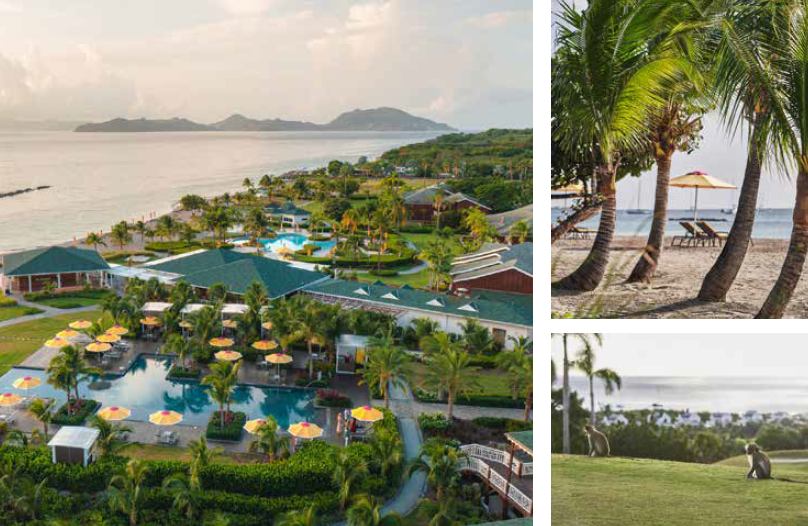 That mountain, Nevis Peak, rests 3200 feet high upon the small island's 36-mile circumference. Thought to be one of the most unspoiled treasures in the Caribbean, this island was once a land of coconut and sugar plantations providing more than 20% of the British Empire's sugar yield. Recent fame as the birthplace of U.S. founding father Alexander Hamilton, "dropped in the middle of a forgotten spot in the Caribbean in Providence," lyrics of the famous Broadway musical.
This "forgotten spot" is located in the Leeward island chain of the West Indies and part of a two-island country, separated from its more bustling sister island to the northwest, St. Kitts, by a two-mile channel called The Narrows. "Two islands, one federation, but two worlds," according to Alexis Arthorton, Nevis Tourism Authority spokesperson. "Nevis provides real island living," Arthorton touts, "We rush slowly here...No stoplights, no fast food, no movie theaters." No buildings taller than palm trees, a place where the number of goats and donkeys rival the number of residents, you feel like you've stepped back in time. The demographic is a more mature group who want to live, relax, and be with nature. But for those that want the nightlife, casinos, and St. Kitts' action, it's just a 20-minute boat ride to St. Christoff harbor. Two islands, one federation but two very different worlds.
Just over 30 years ago, Four Seasons came to this verdant landscape with a vision for the majestic 350 acres set at the base of Nevis Peak down to the emerald Caribbean coastline. A dream was imagined and executed, a gorgeous award-winning luxury resort. The island economy once relied heavily on agriculture and fishing, sending young graduates off the island to find work. Four Seasons brought new economic life and growth for the Nevisian island and people. The Four Seasons Resort has a dedicated staff proudly comprised of 95 percent Nevisian team members. MacKee France, Director of Guest Experiences, has been a member of the Four Seasons family from day one. He feels the key to the success of this Resort is the people. There is a level of quality in service that guests expect with the brand, and Nevis is no exception to that rule. Some would say that the presumptions of excellence are exceeded because of the quality of people on the island. "The happiness is already installed," says France, "Our team members come to us 90% ready, with their hearts open to serve. We just need to train them on the final 10%." Many of the Resort's return guests are always pleasantly surprised and happy to reunite with the sweet Navisian smiles that have welcomed them over the years, team members still there to share in making new magical memories.
The commitment that Four Seasons made to the island years ago continued by the decision to embark on a multi-million dollar enhancement project in 2018. The multi-phase renovations, over several years, are now complete and ready to be enjoyed. A highlight of the revitalized Resort; all 189 guest rooms and suites have been reimagined with a light, clean and fresh décor, with textile touches of island life throughout, like the iconic Nevis ambassador, the green vervet monkey.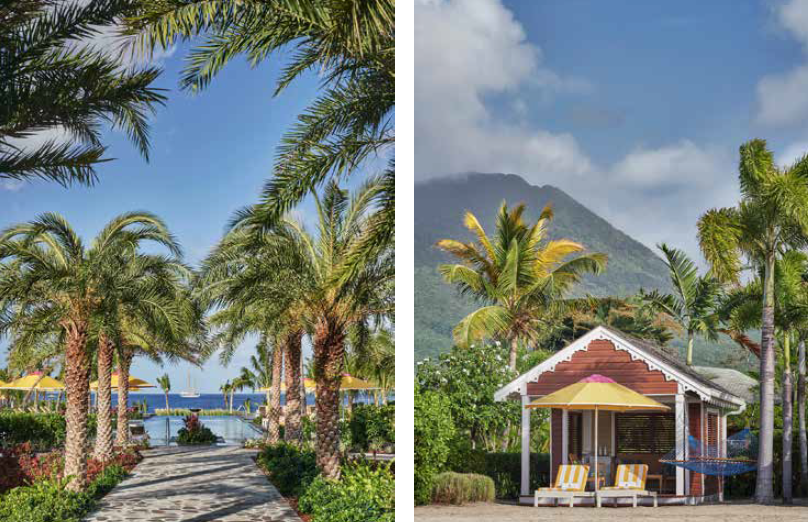 The design team responsible for the new concept, TAL Design Studios, wanted to maintain the quaint and intimate reputation of the island as an untouched tropical destination. TAL Founder Todd-Avery Lenahan said, "...design is not meant to be a complete overhaul but rather the realization of a new vision for the resort that speaks to the modern Four Seasons traveler." Lenahan assures they succeeded while still preserving the humble charm of the Resort's small island home.
Dotting the hillside along the golf course, Four Seasons Resort has over 50 villas to accommodate any special gathering for larger groups or families. Whether a guest room or suite, villa or estate home, with a mountain view, ocean view, or both, your stay will be extraordinary.
The new eateries have chic, fashionable styles and reflect the Caribbean's soul and spirit. The enhancements extend across all of the Resort's dining options; guests can enjoy relaxed beachside Caribbean-American fare at On the Dune, soak in coastal Mediterranean cuisine at EsQuilina, or modern Caribbean classics at Mango. Fill up on the flavors at Kastawey, traditional Caribbean BBQ, and stop in for a nightcap at a rum-fuelled Crowned Monkey Bar, which features the bespoke Crowned Monkey Rum, only available at Four Seasons Resort Nevis. The cuisine at all options exceeds the high standard for which the Four Seasons is renowned. One would expect nothing less.
Once you have heard about this special secret, you have to discover for yourself if it is true. You fly to St. Kitts Robert Bradshaw Airport (Four Seasons greeters whisk away your luggage, which you don't see again until you're in your suite), a quick shuttle drive to the harbor, and a fun 20-minute boat ride while you enjoy a bottle of Ting or Rum punch. Staff members await your arrival as the water taxi pulls up to the newly renovated and expanded "T" shaped pier. A favorite spot for the sundowners club with low lighting on the perimeter of the 7000 square foot surface and conversational clusters of comfy chairs to watch the many memorable sunsets. It's here that you feel the tropical breeze in your hair, exhale out all the stress and inhale all the beauty. You're home.
Years ago, when Four Seasons Founder and Chairman Isadore Sharp first stepped foot on the palm tree-lined Pinney's Beach, it was only a few short years before a new legacy within Four Seasons Hotels and Resorts emerged. At the time, Sharp said of the unique spot, "Nevis was really an unknown; it wasn't on anyone's radar screen." The island is still special more than three decades later; this paradise has stayed true to the promise of perfection, welcoming global visitors to this island home the moment their feet touch the dock.
Beyond the dock, there are infinite perfect places in this one perfect paradise to see, play, eat and do: an 18 hole Robert Trent Jones golf course where every hole has a gorgeous view, tennis courts featuring red clay, hard court, astroturf, and top-rated tennis instruction, basketball court, garden games with bocce ball court and over-sized chess and shuffleboards. If you want to unwind by the water, there are three distinct choices of pools; The new signature Limin' Pool is the centerpiece for the Resort, offering incredible views from the Great House lobby straight out to the Caribbean Sea horizon. The Calypso Pool is next to the ocean, great for families, and features an 83-foot swimming lane and a splash pad for children. The Soca Pool is more private and designed for adults with relaxation as the priority. All have infinity water features, surrounded by new landscaping, comfortable lounging chairs, and attentive pool staff to bring chilled scented towels, water face mistings, and cold drinks as you soak up the sun.
Three miles of golden sand stretches along Pinney's Beach, where bright yellow umbrellas contrast against the blue Caribbean Sea to the west. This moment is what you've been dreaming about, laying upon a lounger sipping on a yummy drink as Raheem offers you a mango popsicle. Or perhaps you've opted for one of the adorable beach cabanas for the entire day with a hammock, t.v., wifi, attendants like sweet Nabrisca are there for your every whim. Either option is close to all of the on-property water activities to enjoy. Paddle-boarding, Hobie cat, water-skiing, snorkeling tours, you name it, they have it. Their staff is eager to assist you with any equipment needed to enjoy the beautiful blue.
You can stay on top of your fitness goals with the workout equipment, exercise classes, and private training available at the sports pavilion. If pampering is your passion, The Spa is a tropical oasis for massage therapy and salon services. Gorgeous landscaped gardens, volcanic-stone whirlpool, Japanese-inspired cold plunge pool surround colorful little gingerbread-trimmed treatment cottages where mind and body can recharge. Indulge with a signature Nevisian massage; this full-body experience incorporates a locally infused blend of scents, spices, and oils of the Caribbean. Ruthlynn works her magic on your muscles, and the tension evaporates.
Throw in a few memorable experiences to round off the adventure. Hot sauce-making class with Four Seasons chef and infamous island figure Llewellyn Clark. A fun culinary lesson and a bottle of your efforts to take home to remember it by. Or maybe a colorful tour of Nevis, exploring the quaint shops of the capital Charlestown, joining local Nevisians on the banks of the 107 degrees Bath Stream, and enjoying health benefits that have thrived in local lore for over two centuries. Hiking Nevis Peak and discovering waterfalls and fauna rejuvenates the soul. It is gaining education on the abundant fruit grown on the island and all of the medicinal benefits of nature's candy on the Orchard Garden Tour. Experience yummy farm-to-table fare at the very colorful and quaint Paradise, a local haunt situated in the foothills. Every offering by owner Karen Belle pops of freshness, accentuated by the flavor of island spices. Round off the day with a late afternoon golf cart ride, the green monkey tour, spy on their mischievous activities—so many things to experience both on and off Resort that awaken the senses and soothe the soul.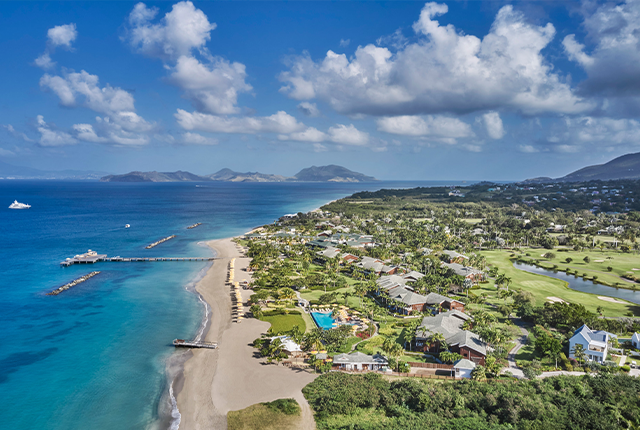 Four Seasons Resort Nevis has delivered authentic Caribbean luxury with genuine Nevisian hospitality for the past three decades.
It has seen many firsts, including earning the first AAA Five-Diamond Award within the brand. Nevis Resort and Spa remain a crown jewel upon Four Seasons tiara, receiving recognition from Condé Nast Traveler and Forbes, among others. Along with the Resort receiving significant awards, many of its team members have also shared in the spotlight, perhaps no more than self-taught Mixologist Kendie Williams. She has made a name for herself within the bartending world for her creative cocktail creations, named "Caribbean Bartender of the Year" numerous times.
In the writings of native son Alexander Hamilton (1727): "I leave them to my Reader, with the old Proverb to accompany them, that the Proof of the Pudding is in eating it." The proof of this paradise is in the people. The secret sauce is the Nevisians and their limin' way of life. Their island contentment with their smiling faces is contagious. When something is this good, it's tempting to keep it on the down-low, selfishly save it for yourself.
Or you can choose to spread the love.
According to island ikon, MacKee France, there is a superstition attached to the national tree of Nevis, the Royal Poinciana or Flamboyant tree. The islanders call it the Shak Shak tree, and some seeds can be found after you crack open the seedpods that grow following the flowering season. If someone is genuine and gives you seeds from a Shak Shak tree, the belief is that you will have "good luck, goodwill, prosperity, progress, and harmony." France continues with a condition of the promise, "You must not lose the seeds; you put them in a special place and keep them safe. You can share one of your seeds with someone you care about so that they, too, will have good luck. You should spread the love."
Like the superstitious seeds, shared with genuineness, the news of Nevis needs to be shared. This special place, this secret that nobody knows, isn't meant to be kept quiet but shouted from Nevis peak for all to hear. Spread the love of this island with others.