Let The Good Times Roll
Four Seasons New Orleans
Let The Good Times Roll
by Jen Helmle
OMG. I'm pretty sure you shouldn't begin an article in this fashion but I cannot think of a more appropriate way to describe the historic and newly opened Four Seasons New Orleans.
Not having been to NOLA in 15 years I had no idea what to expect from the city or hotel. All I can say is I am still speechless over my magnificent stay at this wonderland which was just named in April one of the best hotels in the world by Travel and Leisure. Located 20 minutes from Louis Armstrong Airport, this historic hotel sits at the end of Canal Street on the Mississippi River in what was once the World Trade Center. It is located on the historic Riverwalk and walkable to the Convention Center. It is just a few steps from the French Quarter where fun can be found 24 hours a day, the Warehouse District with its beautiful art galleries and amazing restaurants and the Central Business District. There is direct access from the hotel to the historic streetcar line. The building, which has been on the National Register of Historic Places since 2014, was built in 1967 by architect Edward Durell Stone, who also designed Radio City Music Hall, the Museum of Modern Arts and the Kennedy Center for Performing Arts. Not too shabby a start I would say. But the building sat vacant for years and was I quote "an eye sore" on the river until Four Seasons took over and began a three-year renovation on the 34-story tower that now is the finest example of luxury in the Cresent City. Here is what to expect when you check in and trust me you will be glad you made the reservation.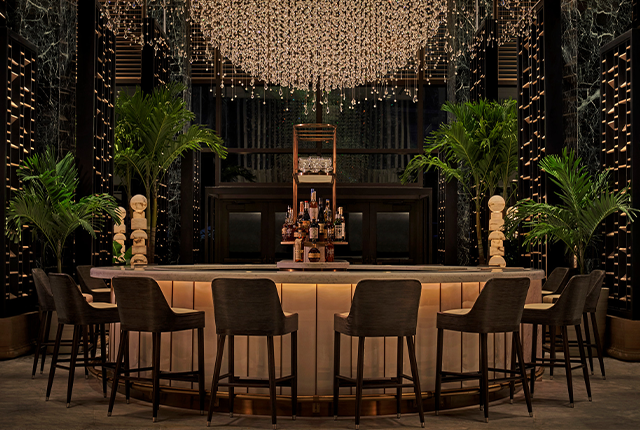 You can't even get to the front doors of the hotel without being greeted and helped by the most dapper looking doormen I have seen in a long-time, wearing smiles and exuding the official (at least by my assessment) mindset of graciousness and let's get the fun going attitudes it seems everyone has here. When you make it through those doors be prepared to drop that jaw because this lobby is so gorgeous, sophisticated and stunning there are not enough adjectives to describe it. Most of the features are original and have been restored to bring back the opulence of definitely another era. The artwork and decor have been specifically curated for the hotel. No detail has been overlooked. The Chandelier Bar is the focal point of this amazing lobby and its 15,000 crystals strung on clear string is truly a vision to behold. It has bar seating, food and beverage service daily featuring classic New Orleans cocktails like the Sazerac and French 75. Just to be sure I tried the French 75 so I can happily report back it was delicious. My job is hard work but I am committed to it. The bar has light fare such as local crab claws in mustard vinaigrette and caviar which go perfectly with one of the many champagnes available to add to the festive atmosphere of this hub of the hotel. Also on the lobby level is one of the 2 main restaurants Miss River by acclaimed chef Alon Shaya. More on that to come. There are also many lounging areas and an outdoor patio if you prefer a more intimate place to gather or relax.
Speaking of relaxing, if you can make it to one of the guest accommodations you are going to be happy you arrived. The FS NOLA has 280 guest rooms with either a city or river view. There are 61 suites all with varying square footage and amenities. There are also 92 private residences that you can purchase and design and build to your liking. I stayed in one of the city view rooms and it was perfect. The bathrooms are huge and offer high-end toiletries, a huge soaking tub with a view, marble floors, double vanities and shower. The closets are equipped with robes, drawers, umbrellas, irons, ironing boards, shoe shine accessories and laundry bags. I'm going to get really excited for a second about a cloth laundry bag that doesn't rip when you try to shove all your dirty clothes back in your suitcase. Sounds like a small thing to care about but I have 3 kids and they create a lot of dirty laundry. The main part of the room offers a fully stocked mini bar with wine and cocktail glasses and again my favorite Topo Chico water from the FS Santa Fe and snacks. There is an espresso machine, espresso cups, coffee accessories as well as several tea options. You will not go thirsty. There is a working desk so perfectly blended into the room that if (God forbid) you had to work you wouldn't feel like you were working at all. Floor to ceiling windows with remote control shades cover every wall. There is a King size bed with the best bed sheets and comforter I have slept in in a long time. All the beds at the hotel have custom inlaid headboards of plastered magnolia flowers that are artwork. They also have thought of all the things travelers need like charging stations, individual reading lights, slippers and ear plugs (thank you because I don't snore ever but my husband does!) There is a small sectional sofa to sit and relax on or watch tv. These rooms are serene, modern, elegant and emphasize again the attention to detail of luxury for every guest there.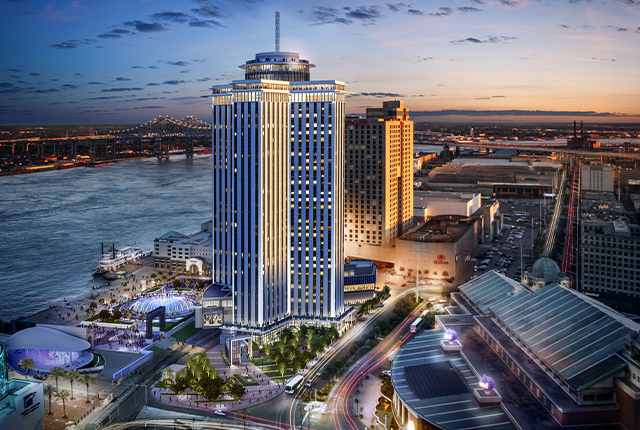 If you can make it out of bed there is so much to do at the hotel you could easily be busy just exploring all the FS NOLA has at your fingertips. There is an observation deck found on the 34th floor of the hotel run by VUE Orleans that offers unobstructed views of the city. It is the only part of the hotel not run by the Four Seasons but if you are a guest, they offer you complimentary tickets to take in the city in the most elevated way. On the fifth floor is the other bustling area of activity beyond the lobby. Not original to the hotel but you would never know it is the annex that consists of the other main restaurant Chemin a la Mer by the legendary chef Donald Link, the fitness center, spa and pool. The 24-hour fitness center designed by Harley Pasternak is the biggest I have ever seen at a hotel. With its own lounge area serving protein bars, Gatorades, infused waters and a sofa and chairs that you may not make it to the actual gym. The gym offers Peloton bikes, the newest cardio, stationary weight equipment as well as TRX, free weights and literally everything a fitness focused workout may need. The pool is a 75-foot crescent shaped beauty with 4 private cabanas, outdoor loungers, a Moet champagne bike, greenery and beautiful views of the Mississippi right over the railing. It is the largest hotel pool in the city. There is a separate whirlpool, underwater speakers and lighting were beyond cool. There is a pool bar serving food and frose (yes, I had to try that for you too) thanks to Kaylie who makes the term service with a smile seem like it was dedicated to her. That girl is going places I just know it. Now that you have sweated and swam you will definitely need to relax so off to the spa you must go. The 8-room state of the art spa had opened 4 days prior to my visit. You would have thought it was up and running for a long time everything was so seamless and organized. Upon checking in to the beautiful white oak and walled entry you are immediately whisked to the locker room for your beyond cozy robe and to prepare for pampering. There are steam rooms and a jacuzzi available to use in the locker rooms. Make your way to the several waiting areas with infused water and amazing seasoned chickpeas (another thing I had to sample). The spa has traditional and signature offerings for treatments such as massages, the triple lift facial and the southern gentleman which focuses on areas men carry tension and uses whiskey infused oil. The products used are of the highest quality and are mostly French and we know how well the French age. I had a mix of a Swedish massage and deep tissue which was amazing. I also had a cold facial which I had never even heard of given to me by Julie, the face whisperer who not only left me a much-improved version of 49 but gave me so much skin advice I wish my facial was another hour so I could have talked to her more. After your treatment(s) you are taken to the post relaxation room with semi private lounging sofas and a private outdoor balcony with sofa and chairs overlooking the river. They have champagne, juices, waters, teas and snacks available to enjoy while you hold onto your blissful feeling. I cannot say enough how wonderful this spa was and the high level of knowledge and care from the staff.
Once again, I feel like I saved my love of eating for one of the last things. I know New Orleans is a world-renowned destination for foodies of all levels. Besides 24-hour room service and the Chandelier Bar, the hotel brought its best A+ game with their two signature restaurants Miss River and Chemin a la Mer. I don't even know where to begin, these restaurants are so fantastic. I guess at the ground up. Miss River, located in the lobby level is an emporium of fun and festivities. It is open for lunch and dinner daily and brunch on the weekends. They also have live music several nights. It was packed on the Monday night I was there and everyone seemed to be reveling in the celebratory atmosphere of this restaurant which as it is stated is a "love letter to Louisiana" by chef Alon Shaya. Miss River offers its own bar separate from the lobby's Chandelier Bar and has tons of seating for customers looking for a menu highlighting local ingredients and beautifully executed flavors of New Orleans. There is caviar service as well as seafood towers filled with the bounty of the waters of Louisiana. Did I mention champagne parings to accompany it? I know I expressed my love of tequila in Santa Fe but my love of bubbles is just as deep and the display of champagne in the glass walled fridges was a dream. The service is top notch and our server Christine was a friendly and knowledgeable expert on all the things Miss River had to offer. There are so many things that were exquisite that I was lucky enough to indulge in. To name a few must tries I think were spectacular the crab maison salad, crawfish strudel, blue crab au gratin, vegetable green curry with shrimp, claypot dirty rice, Redfish courtbouliion and Emily's famous red beans and rice (spectacular). The whole and I think now legendary buttermilk fried chicken is a sight to see as is the salt-crusted gulf red snapper. These come to the table whole and are taken to the food station in the middle of the restaurant where diners can see them carved by expertly trained hands and brought back to their tables where they are eagerly awaited. And I cannot talk about dining there without speaking of the baked Alaska. It is literally a piece of art delivered with peaks of meringue and flourless chocolate cake and café au lait ice cream bathed in chocolate sauce. It could have fed 8 people. I gave it my best shot.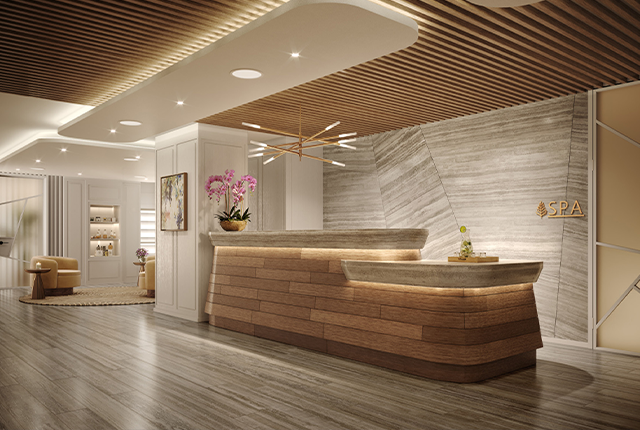 Now we need to move upstairs. I was told that Miss River is the slightly more rambunctious younger sibling to Chemin a la Mer, Donald Link's fifth floor beauty who is the more restrained older sibling. But don't discount this as an insult. With amazing views everywhere of the Mississippi River, Chemin a la Mer is a refined and still contagiously fun restaurant serving breakfast, lunch and dinner. They also have music several nights a week. There is outdoor dining overlooking the river, a huge green marble bar spanning both sides of the restaurant, another champagne (sigh) and wine wall and gorgeous woodwork everywhere. There are tables, cozy booths and ambience abounds palm trees, stunning lighting and the most beautiful décor. This restaurant is elegant and sophisticated and so comfortable. The menu is a perfect blend of simple French sophistication and Louisiana cuisine. Seafood and steak rule here. The most famous entrée I think would be their cote de boeuf for two. There is a grand oyster bar where you can experience the oysters of your dreams. Emily the sommelier can match your wine to any of the outrageously good food offerings. Some of the best offerings I was lucky enough to sample were crawfish and asparagus remoulade, fresh oysters on the half shell, baked feta (out of this world), the simple french salad, ribeye cooked to perfection and pan seared jumbo shrimp on cauliflower rice au gratin. Do not think you are losing weight when you come here! You won't care because dining here is truly an experience you will dream about coming back to.
Apparently when I wrote on FS Santa Fe, I missed the memo about a word limit to my articles and I was over by almost over 1300 hundred words. Oops. Well, I am over now and I still have a few more observations I would like to share. Vicki Bristol Director of Public Relations was the hostess with the mostess. She took time out of her busy day to meet with me and talk about New Orleans (she is a native) and what makes the Four Seasons New Orleans so special for this city. Thank you, Vicki. Like Santa Fe every employee I had the pleasure of spending time with were all passionate about the work they do, the guests they serve and the company they work for. Everyone said as much as the Four Seasons cares about their guests they care just as much for their employees. If everything so far doesn't have you making a reservation then that should. Whether you are coming for a convention, Jazz Fest, Mardi Gras, French Quarter Fest, a foodie tour, sporting event or just to unwind and take in this gem city of the South run don't walk to stay here. As the card holder for your room key states "Laissez Les Bon Temps Rouler." Let the good times roll! To which you should respond "Oui, cher." Yeah you right. Now go roll.......................