Open Your Soul To The Heart Of Mexico
Four Seasons Punta Mita
Open Your Soul To The Heart Of Mexico
by Brandi Brower
An old Mayan tradition says you can tell "Munequita" or worry doll, your grief, place her under your pillow, sleep peacefully, and your suffering will be gone the next day. According to the lore, the sun god granted the Mayan princess, Ixmucane, an extraordinary gift that could solve any human problem.
After my time at this magnificent Mexican destination, I found my stress relieved, my burdens lifted, and the world's cares disappeared. And it wasn't because of a legendary little doll under my pillow. I attribute my complete transformation to Four Seasons Resort Punta Mita.
Punta de Mita is located on the north-western tip of Banderas Bay, north of Puerto Vallarta in Riviera Nayarit. Within this general geographical region is Punta Mita, a spear-shaped peninsula surrounded on three sides by the beautiful Pacific, tropical landscapes, and white sand. Within an exclusive 1,500-acre gated community, the Four Seasons Resort is nestled among the best stretch of coastline, a long swath of calm beaches interspersed with rocky outlets buffeted by crashing waves on 52 acres of secluded beauty.
Four Seasons was the first to make its mark in this hidden oasis over 20 years ago, setting the standard for private luxury in the area. After a recently completed multi-year, multi-million-dollar renovation, it feels like it's the new casita on the block. This resort has succeeded in raising the bar to new levels. Noteworthy updates include a complete refresh to two pools, Apuane Spa, three beach rental homes, and plunge pool suites with ocean views.
My transformation begins as the driver passes through the first security gate and the beautiful fauna and tropical foliage surround us. The canopy of tall fig trees (one being 400 years old) gives shade from the sun- a yearly average of 345 days and has one of the most pleasant climates in the world. Beautiful sculptures greet us as we enter the Four Seasons Resort gates and approach the vestibule and open-air lobby. We are received with smiles, cold towels, and a complimentary mango drink as we are shepherded to comfortable couches in the beautifully appointed Nuna lounge for our check-in and orientation—a lovely way to transition from our transport to the beginning of relaxation.
A golf cart whisks us away to Ave, our ocean view suite with an inviting plunge pool and terrace, to take in the Pacific vista. Greeted by warm wood and marble throughout, vibrant accents of color via the curated art and the lovely appointed accommodations have touches of blue in honor of the area's famous natural resident, the blue-footed booby. Needless to say, the Four Seasons bedding with the special pillows, sheets, and comforter were anticipated and waiting to be enjoyed by this slight insomniac. But the guacamole, chips, salsa, and "make your own margarita" setup was a pleasant surprise waiting to be consumed. A handwritten card with a sweet welcome was a nice added touch.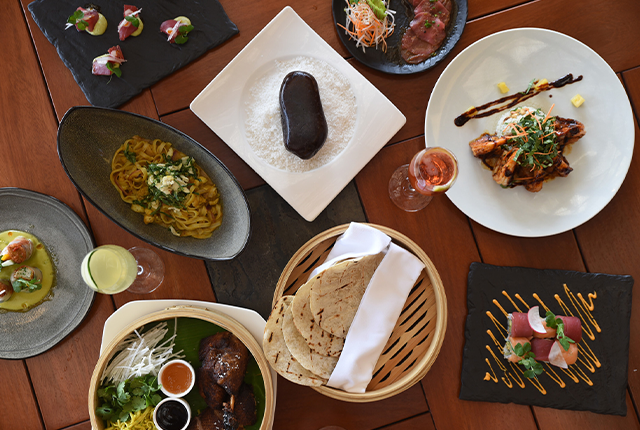 Renewal happens when you disconnect from your life outside Punta Mita and reconnect with all the beauty within. With help from the instructor Israel, the rejuvenating view from the top of "The Rock," and a yoga mat, I connect with the sounds, scents, and sights of the world around me. My warrior pose is shaky, but having my feet grounded on such a lovely spot on earth feels good. As I practice my breathing, it is simply breathtaking.
My work for reconnection continues as I visit the Apuane Spa and Wellness Center. In signature Four Seasons fashion, a full fitness center, body treatments, facials, steam, sauna, cold and hot revitalizing contrast pools, and a full-service salon. My first treatment, Punta Mita Tequila Stone massage, is a signature favorite. As part of the "Journeys for the Body and Soul" selections, I return for a Chakra Balancing Ritual the following day. After filling out a survey, my therapist Alba, applied a cranberry scrub over my entire body. I removed the scrub in the private outdoor shower, and afterward, the therapist gave me a massage with lavender and sandalwood. Lastly, Chakra stones were applied, and various chimes and gongs sounded. It was my first experience, I leave feeling more at peace and connected, and my soul opened to allow everything around me in.
My happy place is the beach, and nature's offering in Punta Mita did not disappoint. We enjoyed Cuevas Beach and the beauty of the blue water in contrast with the black rock formations that jetted out from it. The comfy cabana for two, cushions and pillows, and elevated on tiny stilts, with curtains for privacy, made it even more memorable. The Shack offers humor and creative cocktails, while enthusiastic staff offers avian spritz, chilled towels, daily afternoon treats, and upbeat personalities. The fire pit starts up, the hanging bistro lights go on when the sun goes down, and the fun on Cuevas Beach continues.
Manzanillas beach, located on the other side of the iconic cliffside point, is another breathtaking spot to create memories. Several bamboo teardrop-shaped swings with cushions hanging down on chains from the cliff edge, thatched umbrellas with lounge chairs dot the beach, attentive staff provide food and beverage options, and a spa member offers me a foot massage. Beautiful Beach + Foot Massage = Nirvana.
We take full advantage of all the options for beach and pool: The Tamal Pool is for adults with several private luxury cabanas equipped with a couch and table, a hanging bamboo chair, refrigerator, t.v. and lounge chairs poolside. The Lazy River is an excellent spot to get your slow float with or without children. The Nuna Pool is the jewel, a large infinity edge pool that overlooks the ocean. The amphibious pool waiter periodically takes a spin around the water with his bar setup, whipping up libations live as you splash in the pool.
Mexican food is my love language; if I could swim in a bowl of guacamole, I wouldn't hesitate. I expect that I'd be eating tacos and flan daily. Surprisingly, the variety of dining at the resort made for some tough decisions, so many choices. Dinner at Bahia by Richard Sandoval is a front-row seat for a magnificent sunset. It is the kind of spectacle where everyone gets up from their table to venture out into the sand to get closer to capture the moment with their phones. I'm a sunset lover, so I join in. While the sun dips down into the Bahia (bay), I dip into the Mediterranean appetizer offering of flatbread, hummus, olives, and sundried tomatoes. Then onto a fantastic parmesan and black pepper risotto with grilled prawns the size of my fist. The meal ends sweetly with key lime pie, burnt meringue, and raspberry topped with fresh fruit.
Another memorable meal, Four Seasons' culinary talent, and Asian cuisine combine to create magic at Aramara. The freshness and flavor combinations collide to excite the palate of every patron. We enjoy the Miso Glazed Pork Belly Steamed Buns with Yuzu Pineapple, Pickled Cucumber, and Togarashi Mayo so much that we order another batch. After too much edamame, gyoza, sashimi, and sushi rolls, we have no room for the famed five-spice half duck.
Dos Catrinas satisfies my love of Latin food. After several iterations over the years, this restaurant has become firmly focused on food that a Mexican grandma would make, with an Instagram-worthy presentation. I can enjoy my classic favorites and discover some new ones for breakfast, lunch, dinner, and dessert, all while taking in the beautiful view from the open-air setting. Take the staircase up to see the sun setting on a higher level. Above Dos Catrinas, find the sleek Mez Bar for some Mexican spirits and live music, a place to see and be seen. Or indulge at La Churitta on your walk back to your room, a street cart with a team member making sugar cinnamon churro yumminess.
Aside from the three main dining options, the property has several alternatives to appreciate: Tamal features plant-based Asian bowls, sushi, and refreshing cocktails and juice blends; Cora Lounge with fresh fruit smoothies and coffee drinks while enjoying acoustic guitar and the expansive ocean view; Tale of the Whale offers classic American and Mexican dishes at the golf clubhouse. The Salad Shack is a build-your-own salad spot just off the path down by the beach. There's always in-room dining, pool, and beach service from sunrise to sunset; who doesn't love room service at least once?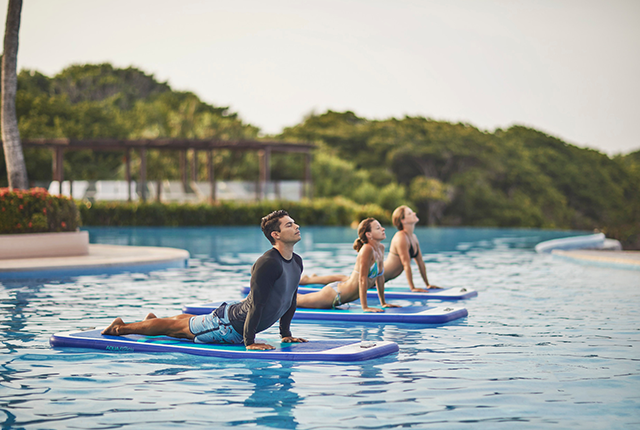 In Mexico, if the culture is in play mode all the time, the Four Seasons Resort Punta Mita is the facilitator of that fun! Mountains to the East and the ocean to the West, everything in between is crafted for your enjoyment. The weekly calendar of daily activities runs from 6:30 a.m. until 8:00 p.m. A sampling of an average Tuesday: Yoga, Panoramic Hike, Aquaforza, Spinning class, Double Tennis Strategy Clinic, Aquaerobics, Tennis Pee Wee Clinic, Tabata, Xocolatl (chocolate) Workshop for Kids, Tennis Junior Clinic, Catch of the Day, Kayak Tour, Stretching, Huichol Lecture, Detox Contouring, Mezcal Tasting, Shore Fishing, Tequila Blending Experience, Fish and Beer, Live Music (at three different places) And that's just a Tuesday! I take advantage of some of the activities, but that's the beauty of this special place; you can soak in as much fun as you want or just soak up the sun.
Punta Mita is a very family-friendly resort with the popular Kids for all Seasons program near the lazy river. An excellent environment for children to learn and participate in fun crafts and experiences, all while giving mom and dad some alone time. The new teen center, The Container, is near the basketball court. The cool containers have different activities in each fun space; ages 13-19 can enjoy the teen-centric facility, a great place to make new friends and break away from the adults.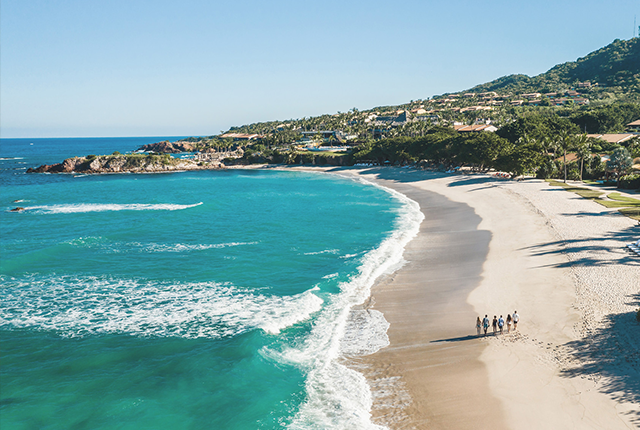 Guests are privileged to enjoy activities outside the gates of the Punta Mita property. Horseback riding, Canopy Tour, Scuba-diving, sailing, bike riding, ATV and RZR Tours, and fishing. Within the gates of the acreage are eight tennis courts, four pickle ball, and two paddle ball courts. Peter Burwash International manages the facility, including a locker room, lessons, clinics, player matching, and rentals. An exclusive opportunity to experience not one but two private and renowned championship golf courses. Jack Nicklaus designed tracks, the Bahia and Pacifico course, are challenging rounds with spectacular views, respectively. Nine and a half miles of coastline provide ample opportunity for great water holes. One, in particular, Tail of the Whale, is the world's only natural island green and can only be played when the tide is low. Worth losing a ball or two for this bucket list hole.
Resort Manager, Denis Espina, began his career at Four Seasons years ago as the assistant pool manager at Punta Mita. "Mr. Denis," as his team refers to him, has come full circle, returning to the area in the new leadership role, "Starting this new chapter in beautiful Punta Mita feels like coming home," says Espina. "The Resort is a deeply special place for not only our guests but also for our team. Together, we will continue to find meaningful ways to express authentic Mexican hospitality, from immersing guests in the local culture to elevating our award-winning cuisine to new levels."
Punta Mita is a special place, "...the best office in the world," according to Francisco, as he brings me a refreshing drink to my cabana on the beach. But ask any exemplary staff member, and you'll hear the reason behind their exceptional service: tradition. Mexican hospitality is about "Mi casa es su casa,"- my home is your home. The staff treats you like their family. It is no surprise that the five-star resort has families returning yearly, some guests faithfully since it first opened. The Four Seasons Resort Punta Mita embodies the true spirit of Mexican hospitality.
Some 800 staffers work at the resort, so finding someone willing to help with my luggage is easy, "It's my pleasure," they impart. A pool attendant looks for a particular spot for me to lounge, "It's been a pleasure," they echo. When the warm staff says it's been a pleasure to serve me, it feels like they genuinely mean it. When I inquire with my waiter, Miguel, about working for Four Seasons, he tells me that many staff members have been employed at the resort for over 20 years. When I ask why, he smiled, saying, "It's part of our culture to serve others. We already serve our neighbors, our family, and those around us. It's easy for us, as a people, to give of ourselves here with our guests." I guess they really do mean it.
As I leave out through the gate of this magical place, with its restorative powers, natural beauty, and energy, my soul is more open than when I entered in. I disconnected to reconnect. In the process, I found the heart of Mexico within the 52 acres called Punta Mita.