Rocky Mountain Retreat Boulder, CO
St. Julien Hotel & Spa
Rocky Mountain Retreat Boulder, CO
by Jen Helmle
You must be familiar or will become familiar with the term "SKO BUFFS" if you are heading anywhere near Boulder, Colorado, and if you are going to Boulder the only hotel you should be staying at is the St. Julien Hotel and Spa. Located in the heart of this great college town (or technically city) at the foothills of the Rocky Mountains and The Flatirons with its trails and craggy rock formations that overlook the city and surround the hotel for absolutely iconic views. It is steps from the University of Colorado, Boulder main campus and is in the center of the towns hustle and bustle with college kids, visiting parents, corporate guests and tourists alike. I can attest to this because I am a parent of a senior there and have a husband alumnus so I have stayed here many times over the last four years. What better place to write about than your home base when you are away from home? The St. J as it is called is definitely the home base for many, many visitors of this amazing place.
The St. Julien is a AAA four diamond (2022) hotel. It has been recognized as a Forbes Travel Guide verified one of the finest hotel properties in the world (2021). Opened in 2005 the St. Julien has historic ties to the old West. Gold was discovered above Boulder in 1859 in mining towns like Eldora and Nederland and as the towns were thriving Boulder became the center of supply for those communities. The hotel itself sits on the site of an actual rail yard where train cars made their ascent 4600' feet above Boulder to the Boulder Canyon. The railroad operated until 1919 and its route was known as the Switzerland Trail. The bike path from the hotel across Canyon Boulevard follows the same trail the trains took many years ago up to Four Mile Canyon. More this in a bit. When the hotel opened it was the first luxury, first-class hotel to open in Boulder in nearly 100 years. It is part of the Preferred Hotels and Resorts Worldwide and offers amazing service and amenities to compliment the unmatched views of The Flatirons mountains. It is the only hotel to offer those full views to its guests. The sustainably designed hotel is simply designed as not to compete with its views and nature that surrounds it. The grounds and architecture are styled to reflect the natural beauty with colors and materials that resemble or are the natural resources of the area. And waiting behind the perfectly opened valet front lobby doors houses luxury but with Boulder flair.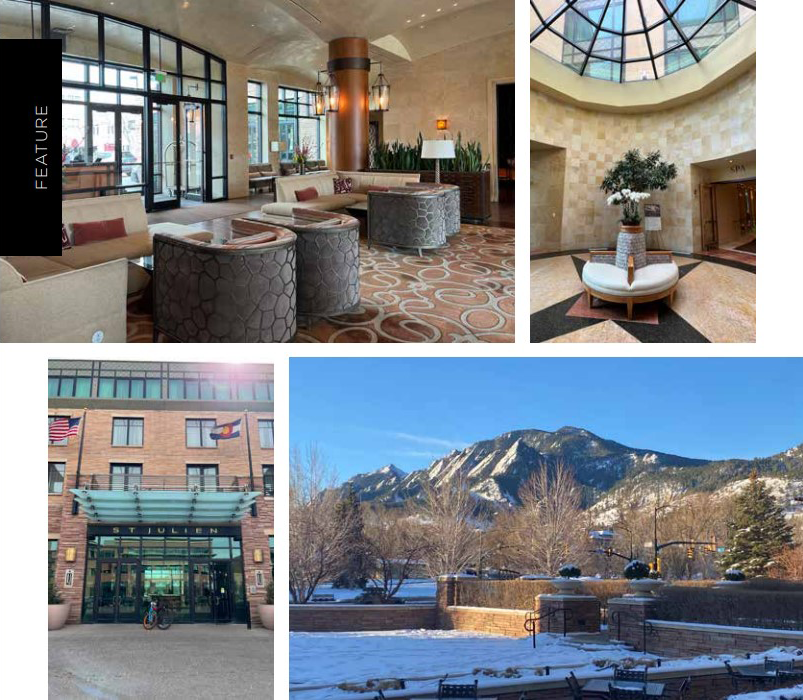 The first place you enter when walking through the front doors is the huge lobby with a massive two-sided stone fireplace at one end, and the T-Zone Lounge inside bar at the other. There are tons of small seating areas with comfy upholstered settees and chars and cocktail tables everywhere. There are meeting, conference and personal event rooms located just off the lobby for your business, collegiate or personal needs. In front of the fireplace sits two massive pieces of a sectional sofa. It is the perfect place for a morning cup of coffee, business meeting, afternoon happy hours and night time fun. And believe me, it is busy doing just that all day and night. There is live music featuring local bands and musicians Wednesday through Saturday in the lobby and if it is a parent's weekend or a CU event weekend you better get your seats early because it gets packed with people who are just having a wonderful time reuniting, celebrating, listening to great music and enjoying life. It is so fun to be a part of whether or not you get a seat. It is the meeting and memory making place for so many of its guests. Off the lobby sits the garden terrace with beautiful landscaped grounds and white light lit trees. There is seasonal dining on the terrace or you can just sit with The Flatirons so close you feel you can touch them. You can access that view from inside or outside all year long so you cannot lose.
The St. Julien has 201 beautifully decorated, generously sized and comfortable guestrooms. Six of those being two room suites. Every room has textures and colors to sooth and relax you while you sink into your cozy bed with top quality bedding or step into the oversized bathrooms with high end toiletries, slate floors, granite countertops and extra-large soaking tubs. Many rooms have balconies or patios that overlook town or the Flatirons. Those are fabulous rooms to get when the weather warms up. Although when I was there in February it was 60 degrees one day and we took full advantage of our large patio overlooking town. The St. Julien is a Colorado green hotel and works very hard to reduce the hotels impact and footprint on the community while still offering the high-end service it has always given. As a side note, complimentary water is left in your room daily but don't be shy about stopping at the super friendly front desk, concierge or valet station for more complimentary water. You're going to need it!
If you want to get out of your room and see what's outside the doors of the St. J then you don't have to go far to experience outdoor adventure, shopping, bustling college life, amazing food and views to be in awe of just steps away. The always happening center of the downtown Pearl Street is steps away from the front door and is home to over 250 shops, galleries, restaurants, open air dining and street performers. Four of its blocks are for pedestrians only to wander and watch from many umbrella covered dining tables or town benches. If you happen to get there at the right time in spring, the flower beds blooming is a treat. Boulder has many local guides to take you on a variety of diverse sightseeing tours and activities. If adventure at any level is your liking, then you have found your spot. Out the back door of the St. J one will find over 180 trails for biking, hiking and rock climbing. Obviously, there is world class skiing from 20 to 200 miles away but I am going to stick to town on this one. Many depart from the Chataqua trailhead located a very short distance from the hotel. The hotel staff are experts on the various trails and their level of difficulty so you can hike and climb from your level of comfort. The St. J offers complimentary bikes to its guests to ride around and explore town, nearby campus if you can make it up those hills and especially the bike path that follows the historic original train route the rail beds took from the Boulder Canyon and up to the Four Mile Canyon. That is a really fun ride I can personally attest to. If you want to sit in a car and aren't afraid of heights like myself you can wind your way past Chataqua on Baseline Road around some very sharp turns upwards on Flagstaff Mountain to the Lost Gulch Overlook which is facing the Continental Divide. My knees are shaking when we get there and as far as I can get out of the car and see it is spectacular. My husband and kids will be taking selfies off the dangling cliffs which makes me thrilled to get back to the hotel!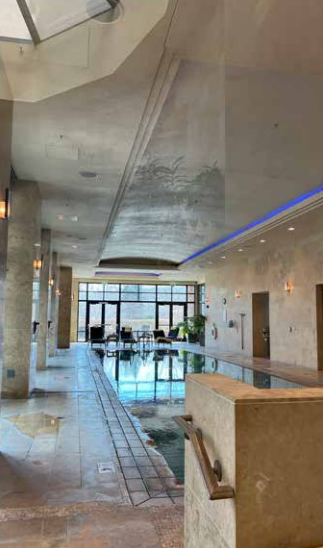 Now we are back to my kind of adventure which is eating, relaxing and having that lobby drink. The St. Julien has several dining options to make the beginning, middle of end of your day a great one. Can't wait to get to your room and chill out? There is room service with a full menu served with a smile to your door. My youngest is a big fan of lying in a hotel robe with a full meal delivered. Dessert too of course. If you are ready to socialize Jill's Bistro offers farm to table modern American cuisine for breakfast, lunch and dinner daily. It has also been recognized and recommended by Forbes Travel Guide (2021) for their cuisine. They support local ingredients sustainably and organically grown to make its fabulous fare. It has a full bar, and outdoor patio and one of the best private dining rooms in the city, The Onyx Room. For breakfast I am a plain two eggs, potatoes and meat kind of girl. The potatoes are delicious. My husband and kids would recommend the corned beef hash, pancakes, smothered breakfast burrito, fresh juices and lattes. On the weekends there is a brunch offered with a massive Bloody Mary bar and Mimosas that are never ending. Other standouts on the menu are the homemade tater tots, Spanish Caesar salad, brussels sprouts, charcuterie board, chicken tiki masala and flatbreads. Most of their menu items from any time of day can be made gluten free. A must try of the cocktail list is their spicy Margarita. It is delicious. If hanging in the lobby or outdoor terrace patio is your speed then make your way out there and grab a seat inside or out if the weather is nice and enjoy the T-Zero lounge hospitality. Happy hour daily is 3-6 with dinner daily from 5-10pm. You can enjoy fabulous hand-crafted cocktails with local Colorado liquor, an amazing wine program and the absolute best people watching daily. T-Zero has various large and small plate offerings for dining. I love their hummus plate. The lounge has master mixologists who have many cocktails freshly shaken or rotating on tap such as the Pearl Street Martini, The Julien Old Fashioned, Blackberry Smash, Blood Orange Paloma, Barrel Aged Manhattan, Asian Pear Martini and the cult favorite frozen Espresso Martini made with locally brewed Ozo Coffee Company espresso. It is epic.
After the Espresso Martini settles in make your way past the front desk and into the tranquil spa at the St. J and let the busy lobby buzz fade away. The spa is a must when staying at the hotel. It will reset you into full rejuvenation and relaxation mode no matter what's going on outside its doors. The spa is open seven days a week and boats a full hair salon, fitness center, indoor pool, steam room, sauna, hot tub and relaxation lounge. The lounge has an attendant and offers flavored waters, small healthy snacks and soothing music to enjoy. The staff is kind and knowledgeable about the treatments and can steer you towards what you are needing to unwind and get some TLC. They offer massage therapies, body treatments, facials, signature seasonal treatments and hair and nail salon services. I recommend the St. Julien Classic massage which can be customized. Ask for Jennifer. She's got some mighty strong hands! All facials and massages can have enhancements you can add on to any of their other treatments. If you are a guest at the hotel and don't have time for a full spa day you can always use the relaxation room and steam rooms while visiting and the fitness center, pool and hot tub are always available. Next visit I am definitely getting the Chakra Balancing Treatment. I mean who doesn't need that these days! I know I do.
Although my daughter's time at CU is winding down, I am looking forward to being back at the St. Julien for graduation. It has definitely been our home away from home these past four years and my family and I have met many wonderful people from our daughter's friends, their parents, siblings, strangers, tourists, locals and employees that have added something positive to our visit that we bring home with us. I know that will not be my last trip to Boulder because the energy and beauty are contagious and I will need another one of those Espresso Martinis! Good luck to all the graduates. May your futures be bright and remember to give kindness to everyone you meet. It will always be returned to you. SKO BUFFS!